Casters and Wheels
Ordering Guide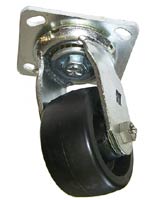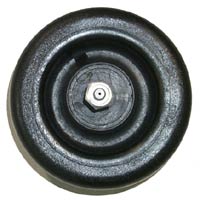 High Temperature Oven Wheels -
Specifications: Material, Temperature, Long Life,

Available in Wheels Only or Entire Caster

Volumne Discounts Available

Baxter, Revent, Dahlen, MacAdams, Lucks, Spartan, Bakers Aid, Lange, Doyan, Hobart, Adamatic, Cinnelli, Others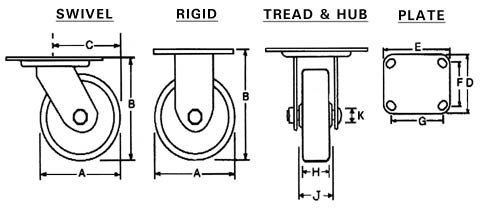 | | | | | | | |
| --- | --- | --- | --- | --- | --- | --- |
| A) | Wheel Diameter | __________ | | | | |
| B) | Over-All Height | __________ | | | | |
| C) | Swivel Radius | __________ | | | | |
| D) | Top Plate Dimension | __________ | x | E) | Top Plate Dimension | __________ |
| F) | Bolt Hole Spacing | __________ | x | G) | Bolt Hole Spacing | __________ |
| H) | Tread Width | __________ | | | | |
| J) | Hub Length | __________ | | | | |
| K) | Hub Diameter | __________ | | | | |
| | | |
| --- | --- | --- |
| Style | Description | Cost |
| Wheel | 3X1 3/8 Heat Deflector Hi-Temp Nylon Wheel 1/2" ID | $7.25 |
| Wheel | 4X1 3/8 Heat Deflector Hi-Temp Nylon Wheel 3/8" ID Sintered Iron Bushing | $7.75 |
| Wheel | 4X1 3/8 Heat Deflector Hi-Temp Nylon Wheel 1/2" ID | $8.00 |
| Wheel | 4X1 1/2 Heat Deflector Hi-Temp Nylon Wheel 1/2" ID | $8.00 |
| Wheel | 4X1 1/2 Heat Deflector Hi-Temp Nylon Wheel 3/4" ID | $8.00 |
| Wheel | 4X1 1/2 Heat Deflector Hi-Temp Nylon Wheel 3/4" ID Roller Bearing | $11.00 |
| Wheel | 4X2 Heat Deflector Hi-Temp Nylon Wheel 3/4" ID | $12.75 |
| Wheel | 4X2 Heat Deflector Hi-Temp Nylon Wheel 3/4" ID Roller Bearing | $15.50 |
| Wheel | 4X2 Heat Deflector Hi-Temp Nylon Wheel 1 3/16" ID | $12.75 |
| | | |
| Style | Description | Cost |
| Caster | 4X1-3/8 Hi Temp Nylon Swivel Plate Caster 2 3/8X3 5/8 Top Plate | $14.50 |
| Caster | 4X1-3/8 Hi Temp Nylon Swivel Plate Caster 2 3/4X3 3/4 Top Plate | $14.50 |
| Caster | 4X1-3/8 Hi Temp Nylon Swivel Plate Caster 4X4 1/2 Top Plate | $17.00 |
| Caster | 4X1-3/8 Hi Temp Nylon Swivel Plate Caster 3 1/8X4 1/8 Top Plate | $15.25 |
| Caster | 4X2 Hi Temp Nylon Swivel Plate Caster 4X4 1/2 Top Plate | $22.00 |
***Casters include Spanner Bushing
WHEELS
Check wheels for visible tread wear. Flat spots may indicate accumulation of foreign material, such as string or thread, which can cause the wheel to bind. Remove the axle bolt and nut. Clean out foreign material and check internal components for wear or failure. Re-assemble if the parts are not damaged. Thread guards may be installed to delay build-up if foreign material is a continuing problem.

Loose casters and frozen wheels can also cause flat spots. Proper maintenance, especially tightening of bolts, proper lubrication, and replacement of damaged casters will enhance equipment rollabililty and tracking performance.

Badly worn or "chunked out" rubber tires can also cause erratic steering, bumping, load shifting, and floor damage. Replacement wheels and bearings should be kept on hand to reduce costly downtime.

After wheels have been inspected and repaired, be sure the axle nut is properly tightened. Use lock washers or locknuts on all axles. If the caster axle is loose, tighten immediately. The wheel may be damaged or lock up if it is cocked in the caster horn.

CASTERS
Check the swivel assembly to see if there is excessive play due to wear. If the swivel assembly is loose, it is advisable to replace it (fork or rig) or the entire caster. If the caster has a king bolt and nut, make sure it is fastened securely. If the swivel does not turn freely, check for corrosion or dirt binding the raceways. Again, it may be necessary to replace the swivel assembly or the entire caster. If the equipment has rigid or stationary casters at one end, make sure that the caster horns are not bent or distorted.



GLOSSARY OF CASTER TERMINOLOGY

BOLT HOLE SPACING
-
The distance between top plate bolt hole centers
CAPACITY
-
Maximum load per wheel based on expected opera tion (expected maximum load divided by number of wheels)
CASTER SIZE
-
Same as wheel diameter
DYNAMIC OR ROLLING LOAD
-
Load on a caster or wheel while in motion
FORK ASSEMBLY (RIG)
-
The caster assembly without wheel and axle
MOUNTING (TOP) PLATE
-
The plate at the top of the caster which is bolted or welded to the equipment
OFFSET
-
Horizontal distance between the centerline of the swivel kingpin and the centerline of the axle; shorter offsets are stronger, longer offsets improve maneuverability.
RACEWAY
-
Surface on which bearing rollers or balls move
ROLLABILITY
-
Force required to begin or maintain motion, measured by drawbar pull
SPANNER BUSHING
-
The fixed sleeve in which the axle runs
STATIC LOAD
-
Load on a caster or wheel while at rest
SWIVEL RADIUS
-
Horizontal distance between the centerline of the swivel kingpin and the outside edge of the wheel
THRUST WASHER
-
The washer between the wheel hub and the inside of the caster leg
TREAD WIDTH (FACE)
-

Width of the wheel tread
To Order or For more information Contact:
John Stricker
Practical Baker Equipment Company
1001 W. Diggins St., Harvard, IL 60033
(815)943-8730 voice (815)943.7942 fax
john@bakery.com