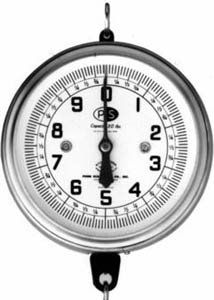 CAPACITY - Furnished in 15 lbs., 30 lbs., and
60 lbs. Pointer makes three revolutions to reach capacity.


Ball bearings make for smooth operation.


All dials covered by glass.


REVOLUTION INDICATOR


The slide is embossed to indicate each revolution.


CONSTRUCTION
All-steel construction makes this scale rugged and accurate. Bronze bearings guarantee long wear and trouble-free service.


DESIGN
Designed to meet requirements of the Bureau of Weights and Measures.
Heavy bows and forks support a 13" flat plate with black rim.
Removable stainless steel pan measuring
15" diameter × 4" deep is held by sturdy bows.
Pan allows drainage of excess water.
AVAILABLE IN 10, 20, AND 30 KILOS
SINGLE DIAL ONLY - ASK FOR INFORMATION
The square galvanized steel pan, made with three sides turned up, measures 16" × 19" × 3". Permanently riveted to the heavy steel of the baked enamel finished frame, the rigid construction will withstand much abuse.
Available in 60 lb. capacity only.
These scoops are made from heavy-gauge
galvanized steel. Complete with head.

Scoop measurements:
For 15 lb. capacity scale, 14" x 14" x 8½"
For 30 lb. capacity scale, 14" x 14" x 8½"
For 60 lb. capacity scale, 16" x 20" x 12"